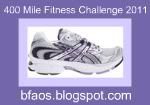 Hosted here @ Books, Fitness & Other Stuff
Hey Chickies! Well, it has been a week since I started the 400 Mile Fitness Challenge.
My miles for this week = 1 mile on treadmill.
I know sad, sad, this week was a not very productive on the exercise front. I'm very pleased on the food intake though. I only ate fresh fruits and veggies in the morning and had a sensible dinner at night.
Gook Luck Everyone. See ya next week.