Vampires Slay Guinness World Record
Halloween has just begun and there's a great time to be had everywhere!
The vamps have kicked it off in true bloody fashion, slaying records!
Check the words in red for the whole article!
Here are just a few of the wonderful Halloween Hops going on:
for some wonderful giveaways and post during the month of October.
Hop on over and find just what you were looking for.
Steph has surprises in store for you!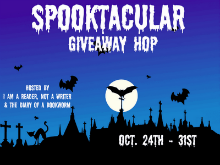 for more fun!
Stay tuned to Readaholics Anonymous all this month
for tons of tidbits and silly finds during the month October!
Thanks to all for making blogging worth every second!