Is it Tuesday already? Wow the past week just sped by. That means it's time for our weekly temptations! Here's what I found for us this week.
Bloodkin by Amelia Atwater-Rhodes
The Maeve'ra Trilogy, #2
Fans of Laini Taylor's
Daughter of Smoke and Bone
will love this second book in the Ma'evra trilogy by Amelia Atwater-Rhodes about loyalty, power, and the rules of survival.
Some lines should never be crossed.
Sixteen-year-old Kadee is proud to be a part of the Obsidian guild, whose members refuse to bow to anyone in Midnight-including the vampires who claim to rule this world and the shapeshifter royals who obey them. She knows firsthand what it's like to live with the Shantel and serpiente, and she'll never forgive these shapeshifters for taking her from her real father as a sick and frightened human child. Fortunately, Kadee is the master of her own life and decisions now, but some of the choices she's made to protect her Obsidian family-and one of her peers in the guild-have begun to haunt her.
How much is one life worth, and when is the price too much to pay?
Dream a Little Dream by Kerstin Gier
Silber, #1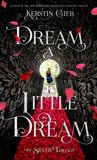 Mysterious doors with lizard-head knobs. Talking stone statues. A crazy girl with a hatchet. Yep, Liv's dreams have been pretty weird lately. Especially this one where she's in a graveyard at night, watching four boys perform dark magic rituals.
The really weird thing is that Liv recognizes the boys in her dream. They're classmates from her new school in London, the school where's she's starting over because her mom has moved them to a new country (again). But they seem to know things about her in real life that they couldn't possibly know, which is mystifying. Then again, Liv could never resist a good mystery.
Flame of the Phoenix by N.J. Walters
Hades' Carnival, #6
There's enough heat between them to send them both up in flames.
Tilly Ledet has long been a friend of the immortal, shape-shifting warriors who follow the Lady of the Beasts, a willing helper in their battle against Hades. But now that Hades is free and unable to touch the warriors, Tilly is fair game.
When Phoenix shows up insisting she drop everything to go into hiding, Tilly balks. Phoenix is strong and courageous, but when she imagines being in his arms, the protective barriers guarding her heart slam down.
For the first time in his immortal life, Phoenix feels fear. Not for himself, but for the woman whose beauty and forthright nature heat both his mind and body. While one kiss easily ignites her passion, claiming her as his own will take more than heat.
It may require a sacrifice that could send them both up in flames.
Warning: This steamy love story may cause overheating and the possibility of bursting into flames. Read at your own risk.
The Story of Son by J.R. Ward
A Dark Vampire Romance
First released in the anthology Dead After Dark, dive into this hot novella from #1 New York Times bestselling author J.R. Ward. Available for the first time ever as a standalone ebook, get lost in the sinful pleasures of a vampire so obsessed with one woman, he will relinquish her blood, if only he can have her heart...
Held captive by a dark, seductive vampire with an unworldly hunger, the beautiful Claire Stroughton fears her life as a lawyer has irrevocably taken a turn for the worse. But when this deeply sensual-and highly dangerous-vampire convinces Claire that his desire for her is stronger than his lust for blood, she is compelled to give everything up to him, body and soul...
Please note: this is not part of the Black Dagger Brotherhood even though it's set in the same "world".
The Wondrous and the Wicked by Page Morgan
The Dispossessed, #3
For fans of Lauren Kate's Fallen series comes the exciting conclusion to the trilogy that includes
The Beautiful and the Cursed
and
The Lovely and the Lost
. The Waverly sisters must save themselves before all is lost.
Since the Waverlys arrived in Paris, the streets have grown more fearsome by the day. As Ingrid learns to master her lectrux gift, she must watch Axia's power grow strong enough to extend beyond her Underneath hive. By all indications, the fallen angel's Harvest is near-and the timing couldn't be worse.
Targeted by vengeful gargoyles, Gabby has been exiled to London for her own protection. Meanwhile, the gargoyle castes are in disarray, divided between those who want Luc to lead them and those who resent him and his fondness for humans. The Alliance is crumbling from the inside as well, its members turning against one another, and possibly against the Waverlys, too.
Axia has promised that the world will burn. And now, unable to trust the Alliance, separated from Luc, Gabby, and her twin, Grayson, Ingrid is left to face the demon uprising alone.