I hope you saved up all the gift cards you received for Christmas because this week has some impossible to resist temptations! I'm splurging for sure!!! How about you? Leave me a comment and let me know what you can't resist.
Dead of Winter by Kresley Cole
The Arcana Chronicles, #3
Can Evie convince her rival loves to work together? Their survival depends on it in this third book of #1 New York Times bestselling author Kresley Cole's Arcana Chronicles, a nonstop action tale of rescue, redemption, and a revenge most wicked.
Heartbreaking decisions Evie was almost seduced by the life of comfort that Death offered her—until Jack was threatened by two of the most horrific Arcana, The Lovers. She will do anything to save him, even escape Death's uncanny prison, full of beautiful objects, material comforts…and stolen glances from a former love.
Uncertain victory Despite leaving a part of her heart behind with Death, Evie sets out into a frozen and perilous post-apocalyptic wasteland to meet up with her allies and launch an attack on The Lovers and the vast army they command. Such formidable enemies require a battle plan, and the only way to kill them once and for all may mean Evie, Jack, and Death allying. Evie doesn't know what will prove more impossible: surviving slavers, plague, Bagmen and other Arcana—or convincing Jack and Death to work together.
Two heroes returned There's a thin line between love and hate, and Evie just doesn't know where she stands with either Jack or Death. Will this unlikely trio be able to defeat The Lovers without killing one another first?
Ensnared by A.G. Howard
Splintered, #3
After surviving a disastrous battle at prom, Alyssa has embraced her madness and gained perspective. She's determined to rescue her two worlds and the people and netherlings she loves. Even if it means challenging Queen Red to a final battle of wills and wiles . . . and even if the only way to Wonderland, now that the rabbit hole is closed, is through the looking-glass world--a parallel dimension filled with mutated and violent netherling outcasts. In the final installment of the wildly popular Splintered trilogy, Alyssa and her dad journey into the heart of magic and mayhem in search of her mom and to set right all that's gone wrong. Together with Jeb and Morpheus, they must salvage Wonderland from the decay and destruction that has ensnared it. But if they succeed and come out alive, can everyone truly have their happily ever after?
First and Last Sorcerer: A Novel of the Noble Dead by Barb Hendee & J.C. Hendee
National bestselling authors Barb and J. C. Hendee present the newest breathtaking chapter in the epic Noble Dead saga....
Waylaid in their quest for the orb of the Air, Magiere, Leesil, Chap, and Wayfarer have all been wrongly imprisoned. But it is Magiere, the dhampir, who suffers the most as a cloaked interrogator employs telepathic torture.
Arriving at the Suman port city in search of Magiere, Wynn Hygeorht and her companions—including vampire Chane Andraso—seek out Domin Ghassan il'Sänke for assistance, which proves no easy task. The domin is embroiled in a secret hunt for a spectral undead with the power to invade anyone living and take the body as its host.
Even if Wynn can manage to free her friends from prison, battling this entirely new kind of undead hidden inside host bodies may be a challenge none of them can survive.
Frostfire by Amanda Hocking
Kanin Chronicles, #1
Bryn Aven is an outcast among the Kanin, the most powerful of the troll tribes.
Set apart by her heritage and her past, Bryn is a tracker who's determined to become a respected part of her world. She has just one goal: become a member of the elite King's Guard to protect the royal family. She's not going to let anything stand in her way, not even a forbidden romance with her boss Ridley Dresden.
But all her plans for the future are put on hold when Konstantin– a fallen hero she once loved – begins kidnapping changelings. Bryn is sent in to help stop him, but will she lose her heart in the process?
Golden Son by Pierce Brown
Red Rising Trilogy, #2
With shades of
The Hunger Games
,
Ender's Game,
and
Game of Thrones
, debut author Pierce Brown's genre-defying epic
Red Rising
hit the ground running and wasted no time becoming a sensation.
Golden Son
continues the stunning saga of Darrow, a rebel forged by tragedy, battling to lead his oppressed people to freedom.
As a Red, Darrow grew up working the mines deep beneath the surface of Mars, enduring backbreaking labor while dreaming of the better future he was building for his descendants. But the Society he faithfully served was built on lies. Darrow's kind have been betrayed and denied by their elitist masters, the Golds—and their only path to liberation is revolution. And so Darrow sacrifices himself in the name of the greater good for which Eo, his true love and inspiration, laid down her own life. He becomes a Gold, infiltrating their privileged realm so that he can destroy it from within.
A lamb among wolves in a cruel world, Darrow finds friendship, respect, and even love—but also the wrath of powerful rivals. To wage and win the war that will change humankind's destiny, Darrow must confront the treachery arrayed against him, overcome his all-too-human desire for retribution—and strive not for violent revolt but a hopeful rebirth. Though the road ahead is fraught with danger and deceit, Darrow must choose to follow Eo's principles of love and justice to free his people.
He must live for more.
Half-Resurrection Blues by Daniel Jose Older
Bone Street Rumba, #1
"Because I'm an inbetweener—and the only one anyone knows of at that—the dead turn to me when something is askew between them and the living. Usually, it's something mundane like a suicide gone wrong or someone revived that shouldn'ta been."
Carlos Delacruz is one of the New York Council of the Dead's most unusual agents—an inbetweener, partially resurrected from a death he barely recalls suffering, after a life that's missing from his memory. He thinks he is one of a kind—until he encounters other entities walking the fine line between life and death.
One inbetweener is a sorcerer. He's summoned a horde of implike ngks capable of eliminating spirits, and they're spreading through the city like a plague. They've already taken out some of NYCOD's finest, leaving Carlos desperate to stop their master before he opens up the entrada to the Underworld—which would destroy the balance between the living and the dead.
But in uncovering this man's identity, Carlos confronts the truth of his own life—and death.
Hungry Like the Wolf by Paige Tyler
SWAT, #1
INTRODUCING SWAT: SPECIAL WOLF ALPHA TEAM They're tight They're on target They're as alpha as men can get.
The Dallas SWAT team is hiding one helluva secret . . . they're a pack of wolf shifters.
The team of elite sharpshooters is ultra-secretive—and also the darlings of Dallas. This doesn't sit well with investigative journalist Mackenzie Stone. They must be hiding something . . . and she's determined to find out what.
Keeping Mac at a distance proves impossible for SWAT team commander Gage Dixon. She's smart, sexy, and makes him feel alive for the first time in years. But she's getting dangerously close to the truth—and perilously close to his heart.
Hunted by a Jaguar by Felicity Heaton
Eternal Mates, #4
A jaguar shifter with a dark secret, Kyter has spent his entire life running from his demons. When a tragedy takes him back to his pride's village, he is set on a path of vengeance that will see him collide with the terrible ghosts of his past and a beautiful vision of his future.
Iolanthe deals in finding artefacts for discerning clients, but this time her client is one of the deadliest men in Hell and her mission has the highest stakes imaginable. Failure is not an option when your life is on the line, but things take a dangerous turn when she crosses paths with a handsome and mysterious male on the hunt for the same artefact—a male who declares she is his eternal mate.
Can Iolanthe resist Kyter's wicked allure and find the artefact before he does? Can Kyter face his demons and win the heart of his fated female? Or will this deadly game of cat and mouse claim both of their lives?
Reborn by Jennifer Rush
Altered, #3
An action-packed, romantic, and suspenseful third book in the Altered series.
The Branch is in shambles, but Anna, Sam, Cas, and Nick can't rest easy. Remnants of the organization lurk unseen and the flashbacks to their old lives are only getting stronger--especially Nick's.
Following scattered memories and clues from his Branch file, Nick sets off alone in search of answers and in search of the girl who haunts his dreams. But the sleepy town where she lives in full of secrets and Nick soon learns that uncovering their shared past may have deadly consequences.
Unbound by Jim C. Hines
Magic Ex Libris, #3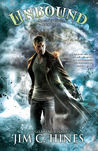 For five hundred years, the Porters have concealed the existence of magic from the world. Now, old enemies have revealed the Porters' secrets, and an even greater threat lurks in the shadows. The would-be queen Meridiana, banished for a thousand years, has returned in the body of a girl named Jeneta Aboderin. She seeks an artifact created by Pope Sylvester II, a bronze prison that would grant her the power to command an army of the dead.
Michigan librarian Isaac Vainio is powerless to stop her, having been stripped of his power and his place among the Porters by Johannes Gutenberg himself. But Isaac is determined to regain his magic and to rescue his former student Jeneta. With no magic of his own, Isaac's must delve into the darker side of black-market magic, where he will confront beings better left undisturbed, including the sorcerer Juan Ponce de Leon.
With his loyal fire-spider Smudge, dryad warrior Lena Greenwood, and psychiatrist Nidhi Shah, Isaac races to unravel a mystery more than a thousand years old as competing magical powers battle to shape the future of the world. He will be hunted by enemies and former allies alike, and it will take all his knowledge and resourcefulness to survive as magical war threatens to spread across the globe.
Isaac's choices will determine the fate of his friends, the Porters, the students of Bi Sheng, and the world. Only one thing is certain: even if he finds a way to restore his magic, he can't save them all.
Unbound by Sara Humphreys
The Amoveo Legend, #5.5
The forces that bind them can also tear them apart...
Zachary McKenna is a warrior shapeshifter from the Lion Clan, trying to catch a break in the sun and surf of Mexico. Mai Tais and scantily clad beach beauties are just what he needs after his last battle. But the fun doesn't last long before a beautiful young woman is mugged on his doorstep and Zach is pulled right back into the fray.
Zach has no idea of the danger Annabelle has unwittingly brought to his doorstep, until he discovers that losing her will almost certainly destroy him.
Wolf's Capture by Eve Langlais
Kodiak Point, #4
She might think she's captured the wolf, but in the end, he'll take her heart.
Brody is a soldier who misses the excitement of the military and its missions. He retired to work as clan beta in Kodiak Point. Talk about boring, until he's captured by a foreign enemy.
Him, a prisoner?
Not for long. This wolf will do anything in order to get away–even if it involves seduction.
First step in plotting his escape: pretend interest in a woman. But Layla isn't just any woman. She's special.
Not human. Not shifter. He doesn't know what this exotic lady is other than his.
A prisoner for years, Layla isn't sure what to make of the enemy who shares a cell with her. He promises her hope, but that would involve trust. Despite her doubts, she can't help but be drawn to him. Unacceptable which means she does her best to drive him nuts.
Working together, can they escape the clutches of the enemy?
And do they dare fall in love?
Welcome to Kodiak Point, where the wildlife might wear clothes, but animal instinct rules the heart.
Wolves' Bane by Angela Addams
The Order of the Wolf, #3
Her destiny is etched in his skin…and carved in her heart.
Morgan Stills is a woman without a future. At least, that's what the carnival psychic tells her. Love is foretold as well, but too bad. She's already been marked for death.
She no sooner flees the psychic's tent when she's confronted by the biggest wolf she's ever seen. A wolf that talks to her—right before she's enveloped in a black cloak and dragged away.
Caleb was born for one purpose: follow the burning of his tattoo to find and protect his destined mate, the Huntress. When he rescues her from Lazarus, the king of beasts, what thanks does he get? A swift kick in his tender parts that leaves him writhing in a ball of pain.
Morgan quickly realizes her destiny lies with the Order of the Wolf. The only catch—she must choose between two sworn enemies who vie for her body, heart, and soul. Marked as a Huntress, thrust into an ancient feud between werewolf and Hunter, she must pick up a sword or die. And somehow learn to live without the man she is destined to kill.
Warning: Be prepared for fiery hot, melt-your-panties men, all muscle and sinew, searching for their one true mate. Committed, hot, and horny. What could be better?