Do you get a few extra days off this week thanks to the Thanksgiving holiday? If so, that gives you a few extra days to indulge in this week's temptations…oh and some turkey, pie, and family time too! But if you're not in the US (or don't get the time off) you can still indulge! Just look at this week's temptations! I know I won't be able to resist :)
Abracadaver by Laura Resnick
Struggling actress Esther Diamond, whose year got off to a rough start (what with incarceration, unemployment, and mystical death curses), finally catches a break when she lands an acting job.
She's hired to reprise her guest role as prostitute Jilly C-Note on The Dirty Thirty, a TV crime drama about depravity and corruption in the New York Police Department. Esther's ex-sometime boyfriend, NYPD's Detective Connor Lopez, hates that show with undying passion— especially after Esther convinces her narcissistic co-star to shadow Lopez on the job, in order to add verisimilitude to his performance as a morally bankrupt cop.
But Esther's fellow thespian is her best bet for keeping an eye on Lopez 24/7—and, more to the point, on Lopez's new partner, Detective Quinn. Esther and her friend Max, a 350-year-old mage whose day job is protecting the city from Evil, suspect Quinn of being involved in the latest mystical mayhem to menace Manhattan...
Corpses suddenly aren't staying quite as dead as they should.
While Max and Esther try to determine what Quinn's role is in the supernatural reanimation of the deceased downtown, a dangerous foe with deadly intent changes everyone's dinner plans one cold winter night.
Black Widow by Jennifer Estep
With wicked Fire elemental Mab Monroe long gone, you'd think I could finally catch a break. But someone's always trying to take me down, either as Gin Blanco or my assassin alter-ago. Now along comes the Spider's new arch-nemesis, the mysteriously named M. M. Monroe, who is gleefully working overtime to trap me in a sticky web of deceit.
The thing is, I'm not the only target. I can see through the tangled threads enough to know that every bit of bad luck my friends have been having lately is no accident—and that each unfortunate "coincidence" is just one more arrow drawing ever closer to hitting the real bulls-eye. Though new to Ashland, this M. M. Monroe is no stranger to irony, trying to get me, an assassin, framed for murder. Yet, as my enemy's master plan is slowly revealed, I have a sinking feeling that it will take more than my powerful Ice and Stone magic to stop my whole life from going up in flames.
The Blackcoat Rebellion, #2

For the past two months, Kitty Doe's life has been a lie. Forced to impersonate the Prime Minister's niece, her frustration grows as her trust in her fake fiancé cracks, her real boyfriend is forbidden and the Blackcoats keep her in the dark more than ever.
But in the midst of discovering that her role in the Hart family may not be as coincidental as she thought, she's accused of treason and is forced to face her greatest fear: Elsewhere. A prison where no one can escape.
As one shocking revelation leads to the next, Kitty learns the hard way that she can trust no one, not even the people she thought were on her side. With her back against the wall, Kitty wants to believe she'll do whatever it takes to support the rebellion she believes in—but is she prepared to pay the ultimate price?
Dead But Not Forgotten Anthology
Stories from the World of Sookie Stackhouse
Charlaine Harris' smash-hit Sookie Stackhouse series may have reached its conclusion, but the world of Bon Temps, Louisiana, lives on in this all-new collection of 15 stories. Written by a killer lineup of authors, including New York Times best-sellers Rachel Caine, MaryJanice Davidson, Jonathan Maberry and Seanan McGuire, and with introductions read by Charlaine herself, Dead but Not Forgotten puts your favorite characters center stage.
The stories included in Dead but Not Forgotten are:
"Nobody's Business" by Rachel Caine (featuring Kevin Pryor & Kenya Jones)
"Tyger, Tyger" by Christopher Golden (featuring Quinn)
"The Real Santa Claus" by Leigh Perry (featuring Diantha)
"Taproot" by Jeffrey J. Mariotte (featuring Andy Bellefleur)
"Knit a Sweater Out of Sky" by Seanan McGuire (featuring Amelia)
"Love Story" by Jeanne C. Stein (featuring Adele Hale Stackhouse)
"The Million-Dollar Hunt" by Jonathan Maberry (featuring Mustapha Khan)
"Borderline Dead" by Nicole Peeler (featuring Desiree Dumas)
"Extreme Makeover Vamp Edition" by Leigh Evans (featuring Bev & Todd)
"Don't Be Cruel" by Bill Crider (featuring Bubba)
"What a Dream I Had" by Nancy Holder (featuring Alcide Herveaux)
"Another Dead Fairy" by Miranda James (featuring Claude & Claudia Crane)
"The Bat-Signal" by Suzanne McLeod (featuring Luna)
"The Sun, The Moon, and The Stars" by Dana Cameron (featuring Pam Ravenscroft)
"Widower's Walk" by MaryJanice Davidson (featuring Eric Northman)
Dead but Not Forgotten was edited by Charlaine Harris and Toni L.P. Kelner.
Jinn and Juice by Nicole Peeler
Cursed to be a jinni for a thousand years, Leila nears the end of her servitude—only to be bound once again against her will. Will she risk all to be human?
Born in ancient Persia, Leila turned to her house Jinni, Kouros, for help escaping an arranged marriage. Kouros did make it impossible for her to marry—by cursing Leila to live a thousand years as a Jinni herself.
If she can remain unBound, Leila's curse will soon be over. But Ozan Sawyer, a Magi with the ability to See, Call, and Bind jinn has other plans.
Oz needs Leila to help him penetrate Pittsburgh's steel-soaked magic, a juice potent but poisonous to supernatural creatures, in order to find a missing girl with her own mysterious connection to Kouros. Unfortunately for Leila, becoming Bound to Oz may risk more than just her chance to be human once more—it could risk her very soul...
Jinn and Juice is the first in a new series by fantasy writer, Nicole Peeler, set in a world of immortal curses, powerful jinni and belly dancing.
Light My Fire by G.A. Aiken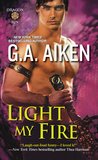 The trouble with humans is that they're far too sensitive. Forget you put a woman in the local jail for a few months--and she takes it so personally! And yet she is the one trying to assassinate the queen. And now I'm trapped with Elina Shestakova of the Black Bear Riders of the Midnight…gods! That endless name!
But what am I to do? I am Celyn the Charming with direct orders from my queen to protect this unforgiving female.
Even more shocking, this unforgiving female is completely unimpressed by me. How is that even possible? But I know what I want and, for the moment, I want her. And I'm sure that she, like all females, will learn to adore me. How could she not when I am just so damn charming?
Four masters of urban fantasy and paranormal romance plunge readers into the dangerous, captivating world unearthed beyond the dark...
New York Times bestselling author Nalini Singh delivers a smoldering story with Secrets at Midnight, as the scent of Bastien Smith's elusive lover ignites a possessiveness in him that's as feral as it is ecstatic. And now that he's found his mate, he'll do anything to keep her.
In #1 New York Times bestselling author Ilona Andrews' novella, Magic Steals, when people start going missing, shapeshifting tigress Dali Harimau and jaguar shifter Jim Shrapshire must uncover the truth about the mysterious creatures responsible.
From Milla Vane—a warrior princess must tame The Beast of Blackmoor to earn a place among her people. But she quickly discovers that the beast isn't a monster, but a barbarian warrior who intends to do some taming himself.
It's seer Makenna Frazier's first day on the job at Supernatural Protection and Investigations, and her first assignment is more than she bargained for when bodyguard duty for a leprechaun prince's bachelor party goes every which way but right in national bestselling author Lisa Shearin's Lucky Charms.
The Darkest Touch by Gena Showalter
Lords of the Underworld, #11
From New York Times bestselling author Gena Showalter comes the long-awaited story of Torin, the most dangerous Lord of the Underworld yet…
Fierce immortal warrior. Host to the demon of Disease. Torin's every touch causes sickness and death—and a worldwide plague. Carnal pleasure is utterly forbidden, and though he has always overcome temptation with an iron will, his control is about to shatter.
She is Keeley Cael. The Red Queen. When the powerful beauty with shocking vulnerabilities escapes from a centuries-long imprisonment, the desire that simmers between her and Torin is scorching. His touch could mean the end for her, but resisting her is the hardest battle he's ever fought—and the only battle he fears he can't win.
Stalked by a vampire. Stolen in the night. Seduced by a lover. Anthropology student Shayna Prentiss wakes up to find herself trapped in a world she never knew existed—with a man she cannot escape…nor resist.
Drawn to her beauty. Driven by lust. Doomed by his destiny. The vampire Marius knows he must bond with this captivating mortal with hidden powers…or both their races will be destroyed forever.
Bound by a blood chain that seals their fates together, Marius and Shayna must stand and fight the ultimate enemy—a madman hell-bent on destruction who will test every ounce of their strength, their power, and their passion. When the final weapon is unleashed, will their love remain unbroken? Or will darkness shatter their chains…for eternity?
Vampire in Paradise by Sandra Hill
The vangels are back in Vampire in Paradise, the latest in Sandra Hill's bestselling Deadly Angels series...
It's been centuries since the Norseman Sigurd Sigurdsson was turned into a Vangel—a Viking Vampire Angel—as punishment for his sin of envy, but he's still getting the hang of having fangs that get in the way when seducing women. Slaying demon vampires known as Lucipires and using his healing gifts as a cancer research doctor, Sigurd is sent to Florida's Grand Keys Island as a resident physician . . . where he encounters a sinfully beautiful woman.
The only hope Marisa Lopez has of curing her five-year-old daughter is a pricey experimental procedure. When she meets the good-looking doctor, Marisa is speechless. Then Sigurd tells her he believes he can help her daughter. Could this too-hot-to-resist Viking doctor be an angel of some sort sent to bring a miracle for her daughter? Or is he just a vampire bent on breaking Marisa's heart?