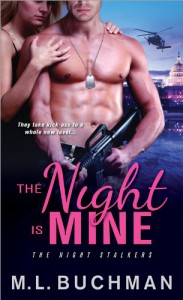 First in a thrilling military romantic suspense series based on the real-life elite helicopter pilots who transport Navy SEALs and Delta Force teams in and out of combat and covert missions.
(SOAR are the heroes of Black Hawk Down.)
Buchman's heroine flys the most dangerous military ops and tries to find the one man who can be a hero in her own life. Ace-pilot Captain Emily Beale goes undercover as bodyguard to the First Lady, with her rugged commander, Major Mark Henderson, who is determined to cover her back. Can she learn to keep her desire at bay before her covert mission implodes?
I gave this book a 3
The Night is Mine by M. L. Buchman is collective throttle into an interesting suspense! Buchman's descriptions are an "All Access Pass" for what lies in the cockpit. I thoroughly enjoyed all the attention to detail, it felt as if I were sitting in the pilot's seat. I just adore a good military suspense, Emily played her part well, yet I was left without the more serious tones I 'm used to in a romantic suspense. I enjoyed the story until the rules of engagement changed and Emily became the First Lady's chef. I fear it left me feeling as if I had been cheated of what could have been a truly excellent story if Emily hadn't left her post. Taking the story all the way to the White House completely changed the experience of the journey. Emily's father being the Director of the FBI and the President a childhood friend seemed too far fetched. Mark's stolen moments with the First Lady, just didn't ring true to me. It is in my opinion that the conduct that compromised the chain of command between Mark and Emily also swayed my opinion of book. I wish there had been a more realistic romantic relationship between characters. I enjoyed the Night Stalkers brotherhood, I believe it is a strong concept that will unite further stories in the series. I hope to read more from Buchman in the future, his writing is rich in detail and gives the reader a wonderful view.
Buy Now!
Publisher: Sourcebooks
Imprint: Sourcebooks Casablanca
Pub Date: February 01, 2012
This Title was Accepted via