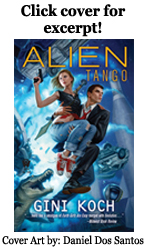 Book 2
It's been five months since marketing manager Katherine "Kitty" Katt started working with the aliens from Alpha Centauri, and she and Jeff Martini are getting closer. But when an experimental spacecraft is mysteriously returned to the Kennedy Space Center, Kitty and the rest of her team are called in to investigate. Now the team must survive murderous attacks, remove a space entity from a group of astronauts, and avoid an unhinged woman with a serious crush on Kitty's high school boyfriend. And that's all before evil masterminds decide Kitty's extermination is vital.
Alien Tango by Gini Koch
offers a very close embrace, with no small steps, and syncopated rhythmic footwork of alien proportions. That's right, this Tango has it all going on! Ms. Koch doesn't just make a sequel to Touched By An Alien, she has indeed invented her own tango. "Exciting, incisive, provocative" with all kinds of yummy aliens are just a few words describing this book. We get to meet Jeff's family and more of "Mommy"'s other life keeps emerging. New aliens are making there debut in this one, some of which we've only heard their voices in book one. We finally get to meet the notorious "Chuckie" and Kitty will have to deal with the in-laws If you thought Kitty had an uncanny way of finding trouble in book 1, wait until you get your hands on this puppy. Kitty and Jeff along with their crew at the TBAA will have to tango with all sorts of nasty! This is a must read action packed tango!
Buy Now!
Publisher: DAW
ISBN: 0756406323
Paperback: 448